Mevagissey is the classic gorgeous Cornish fishing village. It is modest, discreet, and very entertaining. Every area perfectly blends rustic elegance, from the fishing boats bobbing in the sea to the small paths twisting through higgledy-piggledy hillside houses. However, what makes Mevagissey a perfect getaway is that it has something for everyone, of every age. Mevagissey has some of the loveliest things to do in Cornwall. Furthermore, this charming port village is undoubtedly one of the most wonderful places in Cornwall to catch crabs on the quayside, eat Cornish ice cream, and discover hidden gardens. Welcome to the best things to do in Mevagissey!
THIS POST MAY CONTAIN COMPENSATED AND AFFILIATE LINKS. MORE INFORMATION IN OUR DISCLAIMER
Mevagissey is arguably best known as the centre of the Cornish pilchard trade and a significant source of smuggling. Mevagissey pilchards were marketed in Italy and the Caribbean, and the navy may have had some 'Mevagissey ducks' – often the name for the pilchards from Mevagissey. This focus on pilchards even resulted in the annual Mevagissey Feast Week. Mevagissey has also earned a reputation for its boat-building throughout the years.
Looking for the best places to stay in Mevagissey? Our guide on the best Mevagissey hotels, B&Bs in Mevagissey and some glorious holiday cottages in Mevagissey is here.
Where to stay in Mevagissey
Mevagissey has some lovely places to stay – and we've picked the best holiday cottages in Mevagissey, the nicest hotels and the most lovely B&B's in our guide on places to stay in Mevagissey here – here are our top picks for Mevagissey Hotel and Mevagissey Holiday Cottage.
Glanville House, Mevagissey
Glanville House is a remarkable holiday home in Mevagissey with breathtaking sea views from every room. This luxurious home is perfectly situated for families and parties looking for an elegant Cornwall holiday because it is situated on the harbour front here in Mevagissey. Glanville House books out quickly, so you'll need to reserve early!
This beautifully decorated holiday cottage, Glanville House, is set over three floors. From the open-plan kitchen/dining room with its handmade kitchen that you'll see from the moment you walk through the door, to the gorgeous sitting room filled with exquisite paintings, antiques, and artefacts. See rates for this gorgeous holiday home here.
Mevagissey Bay Hotel, Mevagissey
The beach is 6 minutes walk from this Mevagissey Hotel. On Cornwall's south coast, the Mevagissey Bay Hotel offers tranquil lodging with breathtaking sea views. This hotel offers free parking and Wi-Fi in a relaxing environment. Check availability here!
The Mevagissey Hotel is an excellent place to explore the county. There is a lovely lounge and bar area with views of the ocean as well as a second, more private parlour with a log fire for chilly winter days. No matter what time of day it is on sunny days, head outside to the deck for a beverage or cream tea. See more information about the Mevagissey Bay Hotel.
Mevagissey Bay Hotel Address: Polkirt Hill, Mevagissey, PL26 6UX, United Kingdom
Is there Parking at the Mevagissey Bay Hotel? – Free private parking available at the hotel
Is there a Restaurant onsite at the Mevagissey Bay Hotel? – No.
Is there Free Wi-Fi at the Mevagissey Bay Hotel? – Yes.
Is Breakfast available at the Mevagissey Bay Hotel? – Yes, and there are also tea and coffee makers in all rooms.
Unwind and relax at this perfectly located hotel in Mevagissey. Rooms at the Mevagissey Bay Hotel are popular, so book early!
The Best Things to do In Mevagissey
Mevagissey is a perfect summer destination for traditional creamy Cornish ice cream, sea air, little shop displays, crabbing lines, and fish and chips. It is equally beautiful (but somewhat wilder) in the winter and makes for a pleasant and restful escape. The main attraction is the working port nestled on an untouched beach. You can enjoy award-winning fish and chips, wander to the harbour's edge, and maybe end the day with a local beer. Mevagissey is a must-see destination, so check out our list of the best things to do during your visit to this wonderful village!
Go to the Mevagissey Aquarium
Among the most well-known free things to do in Mevagissey is to visit the Mevagissey Aquarium. This Mevagissey attraction is free, but donations are welcome. The aquarium has many local species and is a great place to learn about local marine life. You'll find the Mevagissey Aquarium on the harbour's edge and the building includes two enormous tanks that host a variety of local marine animals such as crabs, lobsters, and starfish. The attraction's goal is to enhance public awareness and education about the richness of local marine species. You'll also get a briefing on Mevagissey's maritime history.
Opening Times for Mevagissey Aquarium: Daily, 10:00 am to 6:00 pm
Admission Prices for Mevagissey Aquarium: Free! (Donations are welcome)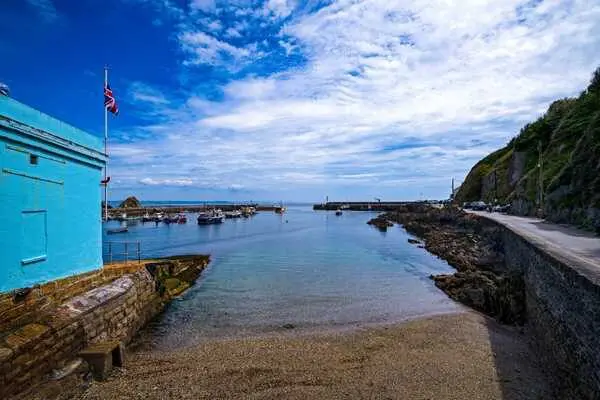 Go to the Mevagissey History Museum
Mevagissey, it is said, was Cornwall's first town to get electric street lighting – powered by pilchard oil! This, and other intriguing facts, may be found at the Mevagissey Museum. This, also free, the museum is located in the inner harbour and is situated on three levels of a boatbuilder's workshop dating from 1745. The roof timbers are made from spars recovered from smuggling vessels. Boats were built on the ground floor, with a carpenter's shop and storage facilities on the second floor. However, as the museum will tell you, Mevagissey is about much more than just its smuggling history. The museum has a Bronze Age arrow and an axe head. There's also a cider press and apple crusher that locals use to produce cider, a horse-drawn barley thresher, and a reconstructed Cornish kitchen with a functioning cloam (or earthenware) oven.
Opening Times for Mevagissey History Museum: Daily, 11:00 am to 4:00 pm (Easter to October), 11:00 am to 4:00 pm (July and August)
Admission Prices for Mevagissey History Museum: Free! (Donations are welcome)
Visit the Harbour in Mevagissey
Mevagissey Harbour, Cornwall's second-biggest fishing port, is lovely, historical, and home to a thriving fishing industry, yes even today in 2022. The surroundings and fishing boats seem to have altered just a little throughout the decades. However, these old quays run contrary to a highly modernized fishing business. The crews here are dedicated to sustainable fishing, and you can watch landings for both local consumption and export all of the finest quality. Since 1774, the Mevagissey Harbour Trustees have owned and maintained the port, with the Trust becoming a charity in 1988. The port is a national treasure with a long and intriguing history. However, with global warming and increasingly violent storms, it faces an unclear future due to a lack of financing for maintenance and protection.
Visit the World of Model Railways in Mevagissey
Here at the Mevagissey Model Railway & Museum, you'll find more than 40 tiny trains going through finely painted settings such as the countryside, a beach, and the Alps – as well as Cornish china clay pits and the Beast of Bodmin! And its indoor all-weather entertainment for all ages. There's also a garden railway and guidance on how to build your own model railway set.
Opening Times for World of Model Railways: Daily, 11:00 am to 5:00 pm
Admission Prices for World of Model Railways: The cost of admission to the World of Model Railways is £5 for adults and £3.50 for children.
Visiting Mevagissey is one of our top things to do near St Austell, check out the others here.
Visit the Lost Gardens of Heligan from Mevagissey
Step back in time and enjoy Europe's biggest garden restoration, which features a world of romance, nostalgia, and adventure. Heligan is one of the United Kingdom's most romantic gardens, famous for its beauty, mystery, and restoration work. Over 200 acres have been turned into a refuge for explorers, animal enthusiasts, plant enthusiasts, and garden romantics, and it has one of Cornwall's greatest vistas. Along winding corridors laid out over two centuries ago, and then hidden for many years, the Victorian Productive Gardens and Pleasure Grounds beckon. The Jungle takes you through bamboo tunnels and under majestic tree ferns, giant rhubarb, and bananas. Meanwhile, the wider estate reveals a lost world of traditional and uncommon breeds, animals, and ancient woodlands. Heligan is a garden for all times, so you will enjoy a wonderful getaway whether you visit during the hazy bustle of summertime or the quiet of winter! Heligan is one of our must-visit places in Cornwall and also one of the best Cornish gardens to visit.
Opening Times for Lost Gardens of Heligan: Daily, 10:00 am to 6:00 pm
Admission Prices for Lost Gardens of Heligan: The cost of admission to Lost Gardens of Heligan is £22.50 for adults and £9.50 for children.
Go to Caerhays Castle from Mevagissey
Caerhays Castle is one of Cornwall's best castles, and it's close to Mevagissey. Caerhays Castle should be on your agenda whether you're a fan of architecture, a garden romantic, or a hidden beach lover. The castle overlooks Porthluney Cove (highly recommended in and of itself!) and is surrounded by 120 acres of wooded gardens, grassy walks, footpaths, and a lake. Over 600 plant species are available, including 250 kinds of rhododendrons, azaleas, camellias, shrubs, and trees. The award-winning magnolia collection is the biggest in the United Kingdom.
Opening Times for Caerhays Castle: Daily, 10:00 am to 5:00 pm
Admission Prices for Caerhays Castle: The cost of admission to Caerhays Castle is £13.00 for adults and £6.00 for children.
Visit the Charlestown Shipwreck Centre in St. Austell
The Merchants of Charlestown is home to the Shipwreck Treasure Museum and it's here that you'll find items from the Titanic's collected items along with 8,000 other items recovered from 150 other ships. It's not surprising that there are so many items considering that you'll find more than 250,000 shipwrecks around the coast of the UK! Among other items in the collection are gold bars, copper ingots, and cannonballs. The museum's most spectacular treasure, however, is the only undamaged barrel of coins ever recovered from a wrecked ship.
Opening Times for Charlestown Shipwreck Centre: Daily, 10:00 am to 5:00 pm
Admission Prices for Charlestown Shipwreck Centre: The cost of admission to Charlestown Shipwreck Centre is £12.50 for adults and £8.00 for children.
Visit the St Austell Brewery Centre in St. Austell
The Visitor Centre of St Austell Brewery is a fabulous place to learn about beer brewing and tasting and the interactive Brewing Experience here reveals the secrets of their award-winning beers and a 170-year-old brewing technique. Tasting is included. There's also the chance, every Friday at 2 pm, for access-all-areas tours. You'll know St Austell's Brewery best for Tribute and Proper Job, but it's also worth trying any of their session beers and the Korev lager is great for hot summer days too! Check out other things to eat and drink when you're in Cornwall here.
Opening Times for St Austell Brewery Centre: Daily, 9:00 am to 5:00 pm
Admission Prices for St Austell Brewery Centre: The cost of admission to St Austell Brewery Centre is £10.00 for adults and £7.00 for children.
Wine Taste at the Polmassick Vineyard
The Polmassick Vineyard is Cornwall's "oldest" vineyard and can be found in the charming town of Saint Ewe, which is located a few miles inland from Mevagissey. The vineyard here was first planted in 1976 and many of the old vines have been replanted too. You can take a self-guided walk around the lovely vineyard, and even pack a picnic to eat while enjoying a bottle of their lovely wines, although traditional Cornish cream teas are provided in the summer too.
Opening Times for Polmassick Vineyard: The Polmassick Vineyard is temporarily closed due to the current covid restrictions. Check here for opening times or for how to buy a bottle
Admission Prices for Polmassick Vineyard: Free!
Walk up Polkirt Hill in Mevagissey for a great view
Mevagissey is at the bottom of a steep hill, so you're going to need to walk up a hill for a great view. If you walk up Polkirt Hill and turn left onto the South West Coast Path for a wonderful bird's eye view of the village and harbour. If you turn to your right at the bottom of the park then you'll find a lookout carved into the cliff here. This isn't for the faint of heart or those that don't like heights, but the view from here is magnificent. You'll find the entrance for the Mevagissey viewpoint behind Nare Court.
Take the Mevagissey Ferry to Fowey
The boat that funs to Fowey from Mevagissey is an iconic thing to do here. And you should take the ferry from Mevagissey to Fowey if you want to avoid having to drive while still enjoying a part of the breathtaking Cornish coastline. This gorgeous little boat trip often spots seals and dolphins, and you'll need to check each day that the boat is running, as it is very weather dependent. Taking the boat one way and walking back on the South West Coast Path is a great option. You can get the Mevagissey ferry times here.
Running Times for Mevagissey Ferry to Fowey: Due to bad weather, time changes and boats may be cancelled. We recommend you to check their website before visiting.
Admission Prices for Mevagissey Ferry to Fowey: Adults are charged £9 for a one-way ride and £15 for a return ticket on the boat. Children's fares are £5 one-way and £8 round-trip.
Take a boat trip around the harbour in Mevagissey
If you don't feel like going all the way to Fowey, you can go on a boat trip around the harbour, which will take around half an hour, rather than travelling all the way to Fowey. You will not only be able to explore some of the lovely coasts and keep an eye out for the local species, but you will also get the opportunity to listen to a commentary about the area and ask your guide any questions you have! Pick up a trip from boats in Mevagissey harbour.
Walk part of the South West Coast Path
There's a great part of the South West Coast Path to walk from Mevagissey. The trail to Charlestown from Mevagissey is lovely, the first part, however, is rather challenging, still, it gets it out of the way early! As you head up to Penare Point, you'll pass several ruins and then come upon the little harbour of Pentewan. The beach here is glorious and I spent many a summer camping here. The village of Pentewan is worth seeing since it has a great pub and café. (it's also the start of the Pentewan Trail to St Austell, which is a great cycle and walking route, and you can also walk to the Lost Gardens of Heligan from here). Head over the sands, and then up to the craggy Black Head, where an Iron Age Castle once stood. This part of the South West Coast Path returns to the coast before turning inland towards St Austell Bay. This section ends at Charlestown and you can take a bus back to Mevagissey or continue on.
Go to the Beach in Mevagissey
There's a small beach in the harbour, but the best beaches nearby in South Cornwall are Gorran Haven and Pentewan Beach. Gorran Haven is a sandy beach located just outside of Gorran Haven village. It's well-protected since it's in the shadow of Dodman Point, which rises 400 feet above sea level to the west. Regardless of the lack of lifeguard presence, this beach is usually safe and accessible to most people. While Pentewan Beach is more than half a mile long and provides more than enough space for everyone! If you're seeking adventure, you've come to the perfect spot! Kayaking, windsurfing, and paddle boarding are just a few of the activities available here. There's also a fantastic holiday park and campsite here and that fantastic traffic-free walking and cycling track up to St Austell and the Lost Gardens of Heligan.
Special Events in Mevagissey
The special events in Mevagissey honour the traditions and success of the whole community and are open to visitors, encouraging engagement in these unique events. Mevagissey is particularly famous for Feast Week.
Feast Week in Mevagissey
The week-long festival called Feast Week includes displays, demonstrations, live music, and a variety of fish cuisines. In addition to choirs and bands, there are flora dances, children's entertainment, contests, colourful parades, boat and raft races, a feast, and a big firework show.
But wait. Here's a little more on what Mevagissey Feast Week is. Well for a start it's the longest-running festival in Cornwall. Mevagissey Feast Week has run in Cornwall since 1754. Feast Week was originally a festival honouring St Peter, but it has evolved over the years. Feast Week in Mevagissey now runs for a week and takes place in late June every year. The village gets busy, not just with visitors staying, but with those coming in from the surrounding area, so you'll want to book your accommodation in Mevagissey early this time of year!
The celebration ends with a colourful carnival parade through Mevagissey's old streets, followed by a magnificent firework show from the outer harbour.
Things to do near Mevagissey
We've already seen all of the best things to do in Mevagissey, so why not make the most of your time here by also exploring some things to do near Mevagissey? Here's our guide to the best things to do around Mevagissey to get you started on exploring the local area.
Visit the Eden Project
The Eden Project in Cornwall was initially a wasteland. A disused clay mine devoid of soil and vegetation. They transformed this massive crater into a breathtaking global garden, paving the way for a memorable visit. Enter the massive, covered Biomes to travel through the world's largest indoor rainforest and indulge yourself in the relaxing smells of the Mediterranean Biome. There are extensive outdoor gardens, contemporary artworks, theatre, and storytelling. The zipline here over the entire site is also amazing. There's more on the Eden Project in our guide to Cornwall's best gardens here.
Visit Charlestown from Mevagissey
Because of its historic port and film connections, Charlestown is among the most popular sites to visit in this part of Cornwall. There are several Poldark shooting sites around Cornwall, but Charlestown is one of the most well-known. Its medieval harbour is breathtaking, and the whole town is a UNESCO World Heritage Site. It's also worth paying a visit to the Shipwreck Museum to discover Cornwall's long and rich history of shipwrecks.
Visit Fowey from Mevagissey
Fowey is a delightful Cornish town that dates back to the Middle Ages. Here you'll find, Readymoney Cove, one of Cornwall's greatest beaches, and the town is close to St Catherine's Castle, a tiny coastal castle that protected the estuary in years gone by. In town, you can visit the Fowey Museum, take a boat trip along the estuary, stroll through the cobblestone streets, and explore numerous shops, cafés, and restaurants. Fowey is glorious and there's so much more to do here.
Fowey is around 35 minutes away by car, or you can take the 24 bus from Mevagissey all the way there. This is a long trip, about one hour and twelve minutes, but it is direct. You can also take the Mevagissey to Fowey boat, which takes less than an hour and is a great experience on this part of Cornwall's wonderful south coast!
Visit St Mawes Castle from Mevagissey
St Mawes is a lovely beach village with one of Henry VIII's castles and it isn't far from Mevagissey. Together with Pendennis Castle near Falmouth, St Mawes protected the Fal Estuary from potential European invasion back in the day. St Mawes is also quite lovely, with a few great restaurants and cafés. You can also park your car here and take a boat to Falmouth, which is one of my favourite underrated spots in Cornwall. It's challenging to reach St Mawes from Mevagissey by public transport, but it just takes 30 minutes by car.
Go to Truro from Mevagissey
Truro, Cornwall's only city has a lot to offer the day visitor, including the Royal Cornwall Museum, which is a fantastic history museum describing Cornwall's unique past, Truro Cathedral, and Lemon Street Market, where you can purchase local food and drink. For longer stays, take a look at our guide of things to do in Truro here. Mevagissey to Truro is a 30-minute drive. The best bus option is to take the 24 buses from Mevagissey to St Austell Station and then get a train to Truro, which only takes 15 minutes.
Explore Wheal Martyn from Mevagissey
A trip to Wheal Martyn from Mevagissey will have you visiting the UK's only china clay museum and learning about the special ingredient in your daily life that is still changing Cornwall and the globe today – China clay! Here in the heart of Clay Country, you'll learn the history of Cornwall's secret and be able to explore the evocative grounds of the old Victorian clay works. You'll be able to see how this industry sculpted the terrain and the renowned 'Cornish Alps,' as well as the individuals in mid-Cornwall and beyond whose lives were influenced by this 'white gold.' And learn about Cornwall's major mining sector, both past, and present, and see sophisticated machinery in action in the working clay mine.
Opening Times for Wheal Martyn: Daily, 10:00 am to 5:00 pm
Admission Prices for Wheal Martyn: The cost of admission to Wheal Martyn is £12.00 for adults and £6.00 for children.
Map of Things to do in Mevagissey
You can also see this Mevagissey map of things to do here.
Where is Mevagissey
Mevagissey is set on Cornwall's south coast, just west of St Austell Bay. It is around 6 miles (10 kilometres) and a 15-minute drive from St Austell and 15 miles (22 kilometres) and a 30-minute drive from Truro.
Where does the Name Mevagissey come from?
Although a hamlet has been recorded here since the 13th century, it was back at the end of the 17th century, a village called Porthilly united with a neighbouring village named Lamoreck to form the current village, which was named after St Mevan (aka Mewan) and St Issey, two Irish missionaries who came to convert the area to Christianity. The new village was named 'Meva hag Ysi', the Cornish term for 'Mevan and Issey'. The name developed into what it is presently known as Mevagissey through time.
Final Words on Things to do in Mevagissey
It doesn't get much more traditional Cornish village than Mevagissey. Tiny roads, tiny slate-roofed houses tucked into the hillside around a gorgeous working harbour. It's pretty, has some fabulous places to stay, to explore and is pretty chilled out too. Come on down, sit on the quay, catch some crabs, have a glass of local Cornish wine, or a pint of Tribute and watch the sun go down, it's glorious here!
Cornwall's Best is a participant in the Amazon Services LLC Associates Program, an affiliate advertising program designed to provide a means for sites to earn advertising fees by advertising and linking to amazon.com, amazon.co.uk, amazon.ca. Amazon and the Amazon logo are trademarks of Amazon.com, Inc. or its affiliates.